We Offer The Best Guarantee In The Puppy World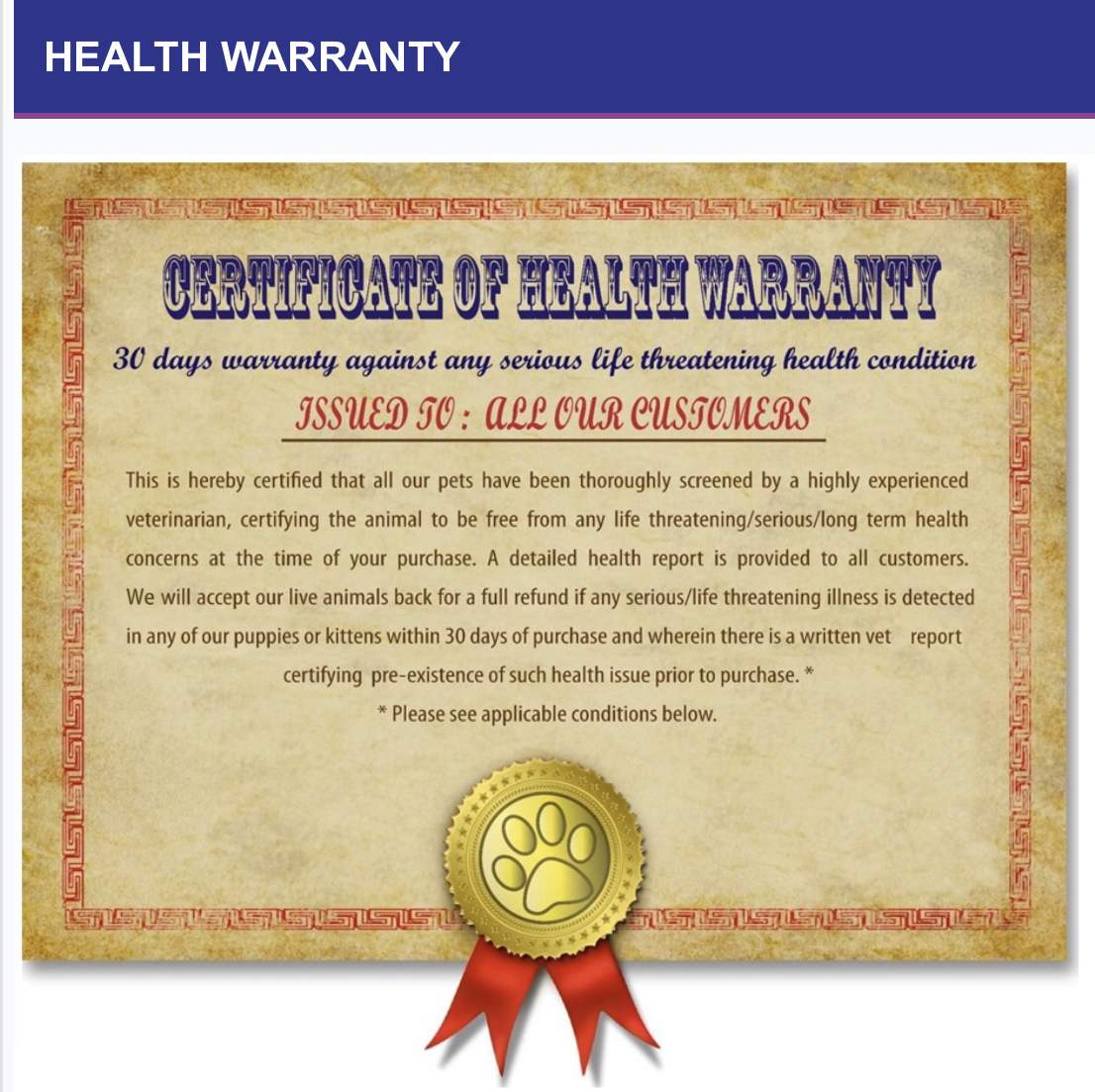 Lifetime Guarantee:

Lifetime guarantee is 10 years.
Although your puppy is not replaceable we feel that getting another friend will help in the healing process. If the puppy dies due to genetics, or if the puppy has a congenital or hereditary disorder(s) (within one year) which causes the puppy to die, your puppy will be replaced with a comparable puppy of equal or lesser value with no expense to you. The cause of death will need to be certified by a licensed vet.
In the unfortunate death of a puppy occurs, due to genetics, after one year of the puppies birth date, a credit will be issued for the amount of 50% of the original cost towards your next puppy of equivalent dollar value, within a period of 4 months. Again the cause of death will need to be certified by a licensed veterinarian.
What you are required to do:

There is no better feeling than to deliver a cute furry bundle of joy to our customers. We want to keep you and your puppy happy by asking you to take a few precautionary measures to ensure your puppy is healthy and will live a long happy life. Here's what you should do:
Take your puppy to the vet within 3 business days. After the exam make sure to send us a copy of the exams results or medical record within 3 business days. Not taking your puppy to the vet within 3 days after receiving your puppy will void the guarantee.The exam must be done by a licensed vet. The puppy will come with up-to-date shots, so make sure you do not give an additional vaccine to your puppy within the first ten days unless otherwise instructed by your vet.
You will need to provide proof of the daily healthcare and maintenance of your puppy/dog, which would include vaccinations and exams.
The Exceptions To The Lifetime Guarantee
We will not guarantee the personality of the puppy
Heart murmurs grades 1 or 2 pose no threat to your puppy and are not covered under this guarantee. These grade of murmurs are usually transient as you puppy is still a baby and its entire organism is still developing.
We do not cover hip dysplasia for any breed
If you cannot show proof of your puppy's regular veterinary care and or timely vaccinations this will void the guarantee.
This guarantee will not cover spaying or neutering or un-descended testes.
This 10 year guarantee will not cover vet costs and only offers credit for a new puppy

If you love dogs, you belong here.