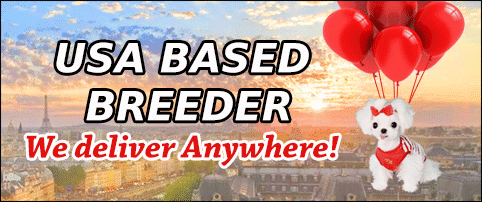 If you are looking for a true micro teacup puppy-you are in the right place! We are located in the USA and deliver via United PetSafe or with a puppy nanny. We have been breeding tiny micro teacup puppies since 1995, we started selling our teacup pups online in 2016, prior to opening our online boutique we sold exclusively in our area by word of mouth. We do not have a storefront. We are an online business only(like Net-a-Porter or Amazon), our website is our showroom.
Hello and Welcome to our substantial website where we primarily cater to the opulent audience that prefers a professional, long-standing and honest establishment in which to choose their new furry family member from.
We have focused our nearly three decades in business on pristine health so distinctive, that it illuminates in the eyes of our puppies and throughout their elegant glossy coats. You may find so-called teacup dogs cheaper on the Internet, but you will never find smaller happier, healthier or better-socialized than on this website.
Without a doubt, we take our surrogate parental role of your newest family member very seriously. And think our number of years in business, factored with the glow of confidence, A+ personalities, and the sheer elegance that beams in each of our pups photos displayed on our website reflect our passion. We hope you enjoy your visit to our website which is updated regularly for our customer convenience. Get ready to rest your eyes on some of the most ultra-rare smallest teacup dogs in the world! We home breed and home raise white Pomeranians, Red Poodles, Blue Bulldogs, and small teacup size dogs in a rainbow of colors.
---
Experience Matters – Who We Are
Take comfort in our 30 years of 3 family generations dedicated experience to perfecting these precious furbabies to the absolute smallest teacup dogs humanly possible! Our family has poured our hearts and souls into raising and breeding the worlds smallest teacup dogs from early mornings, late nights to sleepless nights. Our kids grew up surrounded by a wonderfluff of fur-babies. They learned responsibility, respect and the circle of life at an early age. The older our kids got, the more knowledge they absorbed. All our kids knew how to deliver a breech baby by 8 years old! LOL!
Growing up with them and watching the tremendous amount of effort that went into a wonderful business that stays open for longer than a few years made us appreciate true devotion.
My sisters and I watched how many lives these amazing little doll face teacup puppies touched, not the famous people or the ones that brought the spotlight to our business but the ones who touched the heroes of our country. The ones who helped heal damaged hearts after a dreadful divorce or the loss of a child. These therapy dogs became bandages for hurting hearts, they became joyful gifts and became our extended fur-family.
With so many people who would possibly play around with breeding for a couple of years then disappear, we would look at how we bleached out food and water dishes daily. We bathe all our puppies weekly starting at 4 weeks old, the adults get bathed monthly. Floors so clean you could eat off them!
All the dogs and puppies always stay up to date on their vaccinations and dewormers, all receive topical flea preventative monthly, And the list goes on and on.
Therefore it's easy to see how my sisters and I became braided into the furry fabric to continue the faithful journey of keeping our doll face teacup puppies thriving so people would have a highly respected and trustworthy online store that they knew had been in business the test of time and would continue to flourish because we power on love, not curiosity, greed or adventure.
We are famous for our micro teacup puppies, our teacup pups all have our signature 'doll face' look with big eyes, short noses, compact bodies and we aim for puppies with blue eyes and ultra rare coat colors adding to an irristable combo for micro puppies that is in high demand. As we grow -so do our prices! If you are looking for a bargain-this is not the place. Expect our prices to increase on average $500 every 6 months. All of our micro teacup pups are delivered once purchased, either by nanny or by cargo but not picked up.
All our micro teacup dogs are bred by us, at home, and never brokered or sold via 3rd party. We do not have any affiliation with any 'Korean teacup dogs' (nor should you). We have all the teacup puppy parents and can supply photos upon request. We know the history of our dollface teacup dogs and intimately know and love each and every teacup puppy we sell, and assure you your dollface teacup puppy receives the best care, training and socialization for a healthy, happy forever fur friend. We extensively socialize our micro teacup pups from birth onward, they come with us by car to our appointments, the hair salon, grocery shopping, our general errands, even out to dinners. All this is the most important part for YOU getting a confident (not nervous/yappy) well adjusted happy micro size puppy that will flourish for life (10+ years)
We do not provide our home address as we have young children at home, if you want to come and meet us, and pick up your dollface teacup puppy, we happily will meet you at the airport or public location of your choice. We do not sell our teddy bear teacup puppies via social media. We will not sell our teddy bear teacup puppies without speaking to you first.
You will receive a lifetime support when you buy your baby doll teacup puppy from us. You are our fur-family. We specialize in the rarest and most coveted micro teacup puppy colors, for example, blue coloured puppies with blue eyed puppies, platinum white teacup puppies, rich red teacup poodles puppies, and breathtaking teacup Merle colored puppies. You may never have heard or seen these rare dog colors before! And we breed the tiniest teacup puppies in the world.

If you are not sure which mini teacup puppy breed is right for you to check out our teacup puppy breed descriptions page here
We do not demand deposits. If you like a pocket puppy and need a few days to decide, let us know, we will put your pocket puppy on hold for you, with no risk, no charge. It's a 10+ year decision!
📝Most questions are answered if you take a minute to review our online puppy application form (no commitment to buy) please review it here before proceeding to purchase a teacup puppy.
Please review our extensive micro teacup puppy Health Guarantee here
We also post our micro teacup puppy deliveries and customer reviews here
The photos you see on our website are currently up to date. 📲text📲call or email on how to make a dream designer dog part of your family today!
Your designer teacup dog will arrive with: IATA certified carrier, Water and food dish, Blanket (scent from home do not wash for at least a week),10 Pee Pads, Leash and harness, 1 month supply of kibble-Royal Canin Puppy X-Small (if you opt for another brand gradually switch by added a few kibbles over the course of the month)
What should you buy?
A bassinet or playpen to keep her safe when you aren't holding her
Don't buy clothes they probably won't fit (kitten clothes might)
Treats: crushed ice cubes, frozen carrot chopped, cooked shredded chicken (natural foods to not upset tummy or make her overweight)
Probiotics, Karo or Maple Syrup
Refunds/Exchange Policy:
We offer the best teacup puppy health guarantee in the world. We do not offer refunds or exchanges. Be mindful you are purchasing a life, not a shoe.
Size Guarantee:
We have been breeding designer teacup pocket dogs for almost 30 years and our teacup puppy breeding program is highly focused for very rare teacup puppies, and specific micro size dogs.
We usually have 1 or 2 teddy bear teacup puppies per litter. There are no runts.
We can not guarantee an exact weight because lifestyle factors are not controlled by us. If your baby dollface teacup puppy is happy, healthy, getting exercise and eating a proper diet he/she will weigh the weight listed at adult.
Caring for your Tiny Teacup Puppy:
These tiny pocket dogs are small and crave companionship, it's best if you can 'take your teacup puppy everywhere'
If you are working or out a lot, we recommend to buy 2 teacup pups and to encourage this we offer a $1000USD discount and free shipping.
These pocket pups need access to food and water 24/7(free feed kibble) and you must check to make sure they haven't gone more than 4 hours without (until they are full grown at 2 years old) if you think they haven't eaten, put some maple syrup on your finger and in their mouth (or via a syringe) so you know they are ok.
Until your teeny tiny teacup puppy is 6 months don't take them to dog parks or vet clinics and let them walk (carry and show only)
These tiny teacup pups are not ideal for kids under 10.
Reputable Teacup Puppy Breeders do not sell via social media.
Reputable teacup puppy breeders do not allow 3rd party dog resellers or brokers. These dog resellers know nothing about the parents of the micro size puppies. Dog Resellers know nothing about how the teacup puppy has been cared for nutritionally or socially.
🌎 Worldwide Delivery✈️ 📝1 year Health Guarantee
💯 Amazing Quality and super small size! ** Lifetime Support ** Up to Date Vaccines 💉** 🐩 Microchip ** Free 6 weeks Insurance**
We do not offer to finance. We happily hold a teacup puppy free of charge for a few days.
Feel free to call us with any questions we failed to cover here. We are happy to help! Do read our How to Buy page first please.